Family:
Magic Pot
Found in:
The Shrine of Ru'Avitau

Spawned using:
Ro'Maeve Spring Water
Job:
Black Mage
Level:
83
Flags:

Notorious Monster
Aggro
Not Linking
Based on Light
Strong against Darkness
Strong against Earth
Strong against Fire
Strong against Ice
Strong against Light
Strong against Lightning
Strong against Water
Strong against Wind

Drops:
Stolen Items:
Updated: Sun Feb 21 03:28:38 2010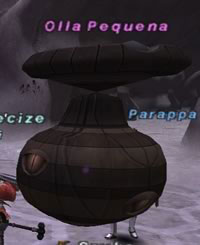 The respawn time is approximately 15 minutes after Olla Grande is defeated or any of the three despawn.
Susceptible to Bind, Gravity, and Stun. Immune to Sleep.
Black Magic - Capable of casting all spells available to a level 75 Black Mage, except for the tier II merit Ancient Magic spells.
Spinning Attacks: Frontal cone AoE physical damage.
Battery Charge: Self target MP recovery effect.
Mysterious Light: AoE Light based magic damage with additional Gravity effect.
Spectral Barrier: Self target Magic Immunity effect. (Dispel effects will be resisted, so this effect cannot be dispelled).
Mind Drain: Single target Mind absorption effect.
Double Ray: Single target magic damage.
In Spanish, Olla Pequena means "Little Pot".
This page last modified 2010-02-20 21:02:57.