Family:
Golem
Found in:
Temple of Uggalepih

Level:
0
Flags:

Notorious Monster
Aggro
Detects by Sight
Detects by Magic
Based on Light
Weak against Lightning

Drops:
Involved in Quests:
Updated: Fri Dec 28 16:26:12 2007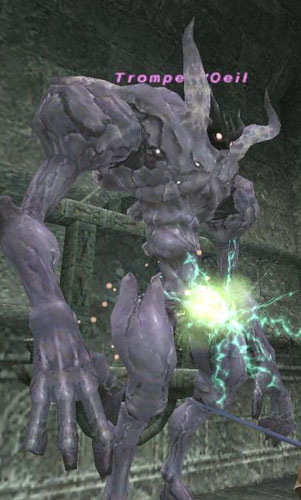 Susceptible to Bind, Gravity, Slow, Paralysis, and Stun.
Crystal Shield: Self target Defense boost effect. (Effect can be dispelled).
Heavy Strike: Single target physical damage with an additional slow and hate reset effect.
Crystal Rain: AoE magic damage.
Ice Break: AoE Ice based magic damage with an additional Bind effect.
Thunder Break: AoE Thunder based magic damage with an additional Stun effect.
Crystal Weapon: Single target magic damage. (Damage can be of different elemental base).
Trompe l'oeil in the French language translates as "Trick the eye".
This page last modified 2010-05-29 17:46:35.