Family:
Skeleton
Found in:
Ifrit's Cauldron

Job:
Black Mage
Level:
0
Flags:

Quest Notorious Monster
Aggro
Based on Earth
Weak against Fire
Weak against Light
Strong against Darkness
Strong against Ice

Drops:
Stolen Items:
Involved in Quests:
Updated: Mon Mar 1 12:04:46 2010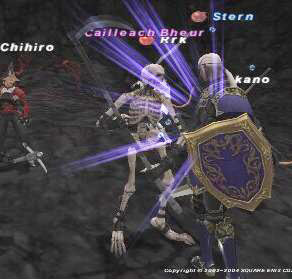 Clicking on the ??? after Cailleach Bheur is defeated will reward the players doing this quest the Annals of Truth key item.
Susceptible to Silence, Gravity, Bind, and Slow, but builds a resistance to Silence over time.
Black Magic - Cailleach Bheur is able to cast all tier IV single target elemental spells and all tier III -ga elemental spells available to a level 75 Black Mage
Blood Saber - AoE Drain effect (Circle of effect originates from mob)
Hell Slash - Single target physical damage.
Black Cloud - AoE Darkness based magic damage with an additional Blind effect (Circle of effect originates from mob).
Horror Cloud - Single target Slow effect.
In Scottish and Irish folklore, the Cailleach Bheur was said to be a sorceress with the appearance of an elderly woman with the teeth of a bear and the tusks of a boar. She is associated with wintertime and is considered the personification of Winter in the British Isles.
This page last modified 2010-08-14 01:14:11.