Family:
Corse
Found in:
Attohwa Chasm

Job:
Dark Knight
Secondary Job:
Black Mage
Level:
80 - 81
Grants Title:
Xolotl Xtrapolator
Pets:
Flags:

Notorious Monster
Aggro
Linking
Detects by Sound
Detects by Low HP
Based on Dark
Weak against Fire
Weak against Light
Strong against Darkness
Strong against Earth
Strong against Ice
Strong against Lightning
Strong against Water
Strong against Wind

Drops:
Updated: Tue Nov 11 08:18:57 2008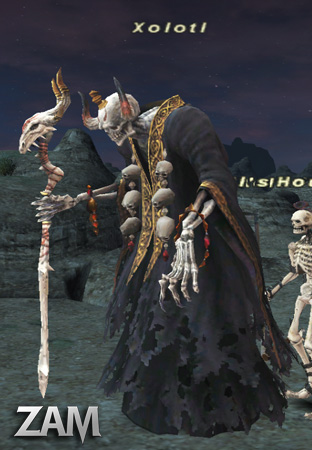 Xolotl's Spawn Location
Spawns between 20:00 and 4:00 every 21-24 hours after it's last ToD.
If it is unclaimed by the time that it reaches 4:00, it will despawn. If this occurs, Xolotl will respawn at 20:00 the next game day, and will continue this spawn-despawn process until defeated.
Black Magic Spells: Capable of casting all Tier IV single target and Tier III -aga spells a level 75 Black Mage possesses.
Gala Macabre: AoE Charm effect.
Danse Macabre: Single target Charm effect.
Silence Seal: Single target Silence effect.
Envoutement: Single target physical damage.
Final Revolution: AoE Magic damage.
Memento Mori: Self target Magic Attack bonus. (Effect can be dispelled).
Blood Weapon: All physical attacks performed by Xolotl will drain HP from the target equal to the amount of damage the attack does. Denoted by the characteristic mob two-hour animation.
In Aztec mythology, Xolotl was the god of lightning, fire, and bad luck, often depicted as a skeleton or a human with the head of a canine. Xolotl's primary functions were to guard the Sun whenever it passed through the Mictlan (the Aztec Underworld), as well as to act as the ferryman for the souls deemed worthy to travel to Mictlan.
This page last modified 2010-08-12 04:48:44.