Family:
Cluster
Found in:
Misareaux Coast

Found at Location:
I - 7
Level:
50 - 51
Flags:

Notorious Monster
Aggro
Appears during Clouds / Fog
Detects by Sight
Detects by Magic
Based on Fire
Weak against Fire

Drops:
Updated: Sun Feb 14 11:26:24 2010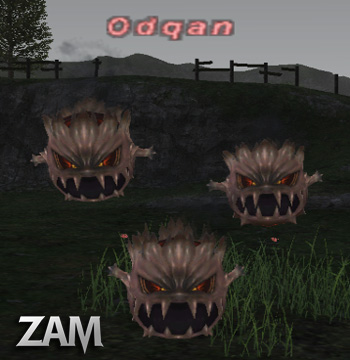 Odqan's Spawn Locations
Odqan will only spawn during "foggy" weather, which generally occurs from 01:00 and 07:00 game time. Odqan is not a guaranteed pop when "foggy" weather is present in Misareaux Coast.
Circle of Flames - AoE physical damage with an additional Weight effect (Circle of effect originates from mob).
Formation Attack - Single target physical damage.
Refueling - Self target Haste effect (Effect can be dispelled).
Self-Destruct - AoE Fire based magic damage proportional to an amount of HP it possesses.
If its HP is above 20%, only a single bomb will explode. Below 20% there's a possibility of all the bombs exploding.
Sling Bomb - Single target physical damage.
In Mongolian folklore, the Odqan is the guardian spirit of fire. In Turkish mythology, the origin of the Odqan name, he was said to have a female counterpart, a more ancient fire spirit known as Yal-un Eke.
This page last modified 2010-05-25 05:00:47.