Family:
Bats
Found in:
Misareaux Coast

Found at Location:
F - 8
Level:
0
Flags:

Notorious Monster
Aggro
Linking
Based on Wind
Weak against Light
Weak against Wind
Strong against Darkness

Drops:
Updated: Fri Dec 28 16:26:12 2007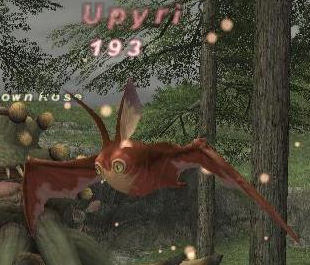 Upyri's Spawn Location
Respawn is approximately 21-24 hours after its last ToD.
Unlike normal bats, Upyri can spawn during the daytime hours.
When fought during the day, Upyri is decidedly weak, being easily soloable by most lv. 60 jobs. At nighttime, his attack and accuracy are considerably increased.
Subsonics: AoE Defense down effect.
Ultrasonics: AoE Evasion down effect.
Blood Drain: Single target HP drain effect.
Marrow Drain: Single target MP drain effect.
Soul Accretion: Single target status absorption effect.
In Russian legend, the Upyri is said to be an iron toothed vampire that hunts during the day, often attacking children first and then their parents. The Polish version of the Upyri, the Upier, would have a forked, barbed tongue in place of its teeth, and would explode when staked.
This page last modified 2009-06-03 15:23:02.