Family:
Corse
Found in:
Sacrarium

Found at Location:
J - 8
Job:
Black Mage
Secondary Job:
Beastmaster
Level:
0
Flags:

Notorious Monster
Aggro
Detects by Sound
Detects by Low HP
Based on Dark
Weak against Fire
Weak against Light
Strong against Darkness
Strong against Earth
Strong against Ice
Strong against Lightning
Strong against Water
Strong against Wind

Drops:
Updated: Tue Apr 13 02:30:53 2010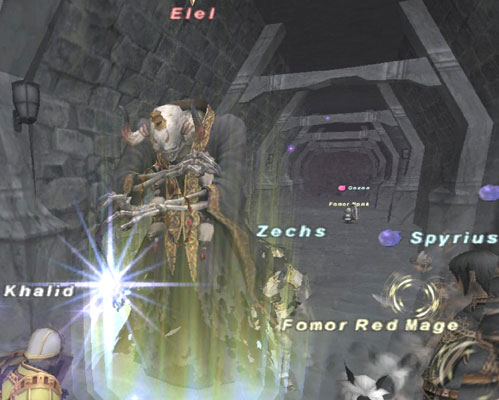 Spawns in the (H-8) through (J-9) maze area on the first map of Sacrarium

Elel's Spawn Location
Elel will only spawn at nighttime during Dark weather, and will despawn if unclaimed once either condition disappears.
Susceptible to Stun. Resistant to all other forms of debuffs and elemental magic damage.
Black Magic - Capable of casting all Black Magic spells available to a level 60 Black Mage
Charm: Forces the affected target to fight by its side. Denoted by the characteristic mob two-hour animation.
Memento Mori: Self target Magic Attack boost.
Envoutement: Single target physical damage.
Danse Macabre: Single target Charm effect.
Silence Seal: AoE Silence effect.
In Puelche mythology (a native tribe in Argentina), Elel is an evil demonic being who causes storms, illness, and death.
This page last modified 2010-04-14 12:29:09.