Family:
Antlion
Found in:
Boneyard Gully

Level:
0
Flags:

Notorious Monster
Aggro
Detects by True Sound
Based on Dark
Weak against Light
Weak against Wind
Strong against Darkness
Strong against Earth

Involved in Quests:
Updated: Wed Jan 27 17:29:37 2010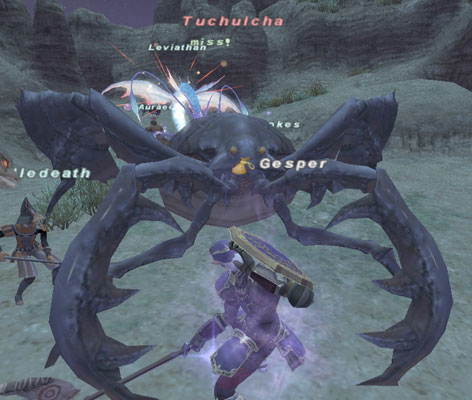 Will spawn, along with the other three Antlions in the battlefield, underneath the ground, and will only surface when a player runs over its current location.
Immune to Bind, Gravity, Sleep, Stun, and Paralysis. Susceptible to Slow and Blind.
Every time Tuchulcha's HP drops by 25%, it will bury itself under the ground, using the ability Sandpit in the process.
When defeated, a Treasure Casket will appear
Mandibular Bite - Single target physical damage.
Pit Ambush - Strong single target physical damage.
Tuchulcha will only perform this ability when a player runs over its position when it is buried under the ground.
Sandblast - AoE Blind effect (Circle of effect originates from mob).
Sandpit - Single target Bind effect.
Tuchulcha only performs this ability when its HP drops by 25%. All enmity generated on Tuchulcha will be reset, and all status ailments on it will be removed.
Venom Spray - Frontal cone AoE Poison effect.
In Etruscan mythology, Tulchulcha was a chthonic daemon with pointed donkey-like ears, hair made of snakes, and a vulture's beak. Having both masculine and feminine aspects (thus its gender being unknown), Tulchulcha lived in the underworld known as Aita.
This page last modified 2010-05-28 06:18:40.