Family:
Hound
Found in:
Konschtat Highlands

Level:
14
Flags:

Notorious Monster
Aggro
Not Linking
Appears at Night
Detects by Sound
Detects by Low HP
Based on Dark
Weak against Fire
Weak against Light
Strong against Darkness
Strong against Ice

Drops:
Updated: Tue Apr 29 21:09:12 2008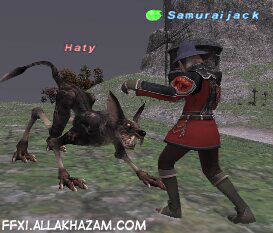 Haty will only spawn if the current phase of the moon is within 90% of being full. The phase can be Waxing Gibbous, Waning Gibbous, or Full Moon.
Susceptible to Gravity, Paralysis, Slow, Gravity, and Stun.
Howling - AoE Paralysis effect (Circle of effect originates from mob).
In Egyptian mythology, the haty was the name given to the anatomical heart, whereas the metaphysical heart, the one believed to govern thought, wisdom, sadness, happiness, and love, was known as the ib.
This page last modified 2010-04-14 00:01:28.