Family:
Hippogryph
Found in:
Riverne - Site #A01

Level:
0
Flags:

Notorious Monster
Aggro
Linking
Truesight
Based on Light
Weak against Earth

Drops:
Updated: Fri Dec 28 16:26:12 2007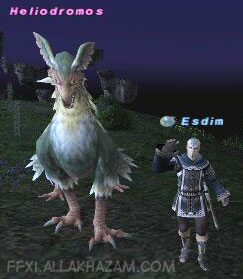 Respawn time is approximately 12-15 hours after its last Time of Death.
Three copies of Heliodromos will spawn on the island, and will link when one is attacked. All three copies must be killed within a certain frame of time, otherwise the copies that aren't defeated once the time frame has expired will despawn.
Susceptible to Sleep, Bind, Slow, Paralysis, and Stun.
Choke Breath: Frontal cone AoE Wind based damage with additional Silence and Paralysis effects.
Jettatura: Frontal cone Terror effect. Targets are unable to perform any action until effect wears off.
Fantod: Self target Attack boost for next melee attack.
Nihility Song: AoE Dispel effect. Can remove Food effects.
Back Hoof: Single target physical damage.
Hoof Volley: Single target critical hit physical damage with an additional Enmity reset effect.
In Greek, the word Heliodromos means "sun runner", and is 6th grade of the 7 grades of the cult of Mithra. The 7th grade, Pater, was reserved for the priests of the cult, thus Heliodromos was the highest rank of a non-priest member of the Mithraic cult. It seemed to refer to a runner protected by the Sun.
This page last modified 2010-05-21 01:54:51.