Family:
Greater Bird
Found in:
Cape Teriggan

Found at Location:
I - 8
Spawntime:
9 Hours
Job:
Thief
Level:
79
Flags:

Notorious Monster
Aggro
Linking
Truesight
Appears during Winds / Gales
Based on Light
Weak against Ice
Strong against Wind

Drops:
Updated: Tue Feb 24 23:40:52 2009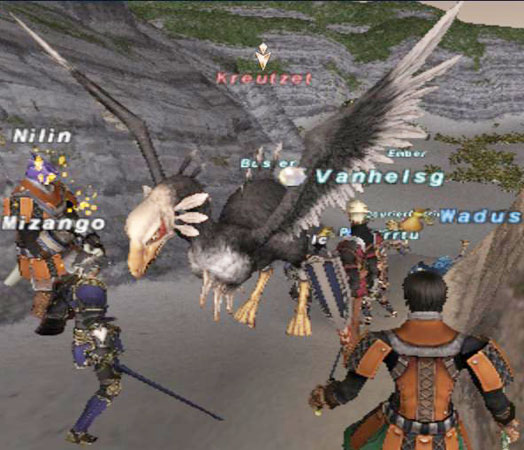 Kreutzet's Spawn Location
Kreutzet's window opens 9 hours after its last ToD and has a chance to spawn during any wind weather until 12 hours after its last ToD. If it has not spawned after 12 hours, it will spawn during the next wind weather.
If left unclaimed, Kreutzet will despawn once the windy weather in the area dissipates, though it will count as if it was killed, thus its respawn timer will be reset.
Gliding Spike: Single target physical damage with additional Knockback and Stun effects.
Feather Barrier: Self target Evasion boost (Effect can be dispelled).
Scratch: Single target physical damage with an additional Blindness effect.
Stormwind: AoE Wind based magic damage (Circle of effect originates from mob).
Kreutzet will perform Stormwind three times in a row, with each successive Stormwind being stronger than the last.
Triple Attack: Single target three-hit physical damage.
In Persian mythology, the Kreutzet was a giant bird similar to the Roc (see Roc).
This page last modified 2009-02-24 16:08:26.