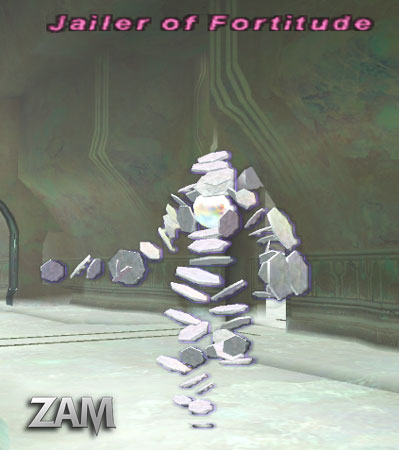 Jailer of Fortitude ???
The ??? will respawn in one of these five areas fifteen minutes after Jailer of Fortitude has been defeated or despawns.
Two Kf'ghrah will spawn alongside Jailer of Fortitude and share hate with him.
While the Kf'ghrah are out, Jailer of Fortitude will mimic any magic spell cast on him.
If both Kf'ghrah are alive when a magic spell is cast on Jailer of Fortitude, it will have a 100% mimic effect. If only one Kf'ghrah is alive when a spell is cast on Jailer of Fortitude, the chance of it mimicking the spell is reduced to 50%.
Jailer of Fortitude has a very high defense level, making it difficult to damage him physically.
Vorpal Blade - Single target four-hit critical physical damage.
Actinic Burst - AoE Flash Effect (Circle of effect originates from move target)
Invincible - Reduces all physical damage performed on Jailer of Fortitude to 0 damage for the duration of effect. Denoted by the characteristic mob two-hour animation.
Jailer of Fortitude is capable of using Invincible multiple times.
This page last modified 2010-05-15 20:11:09.