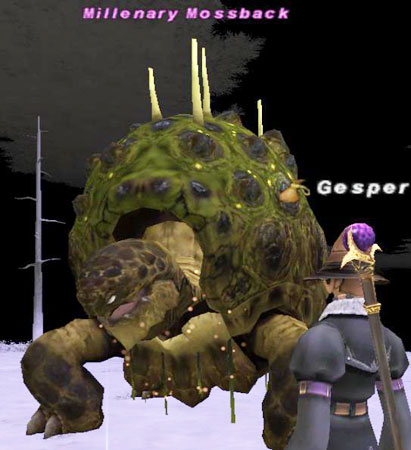 Appears as the boss Notorious Monster on the third floor of the NW Apollyon Limbus zone.
Upon defeat, an item chest will spawn in the location that it was killed in.
This item chest will contain up to five Ancient Beastcoins, up to two crafting items, and possibly a single item for artifact armor upgrade.
Susceptible to Sleep, Bind, and Gravity, but immune to Lullaby and Light Shot.
Aqua Breath: Frontal cone AoE Water based damage.
Earth Breath: Frontal cone AoE Earth based damage.
Harden Shell: Self target Defense Boost (Effect can be dispelled).
Tortoise Song: AoE Dispel effect (Circle of effect originates from mob).
Turtle Stomp: Single target physical damage with Defense Down additional effect.
The word millenary is in reference to the word millenium, and mossback is in reference to a very old turtle or tortoise that has allowed moss and algae to grow on their shells. As such, a millenary mossback would be a thousand year old tortoise, which in legend is said to be able to speak with a human tongue and foretell the future.
This page last modified 2009-03-18 21:25:15.