Family:
Qiqirn
Found in:
Aydeewa Subterrane

Job:
Ranger
Level:
82
Flags:

Notorious Monster
Aggro
Linking
Based on Earth

Drops:
Updated: Fri Dec 28 16:26:12 2007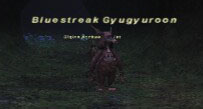 NM is a lottery spawn from the Qiqirn Archaeologist at J-8, J-9 or I-9.
Possibly immune to sleep.
NM will run away from melees, possibly linking with other Qiqirns.
NM has roughly 12,000 HP.
This page last modified 2010-03-20 16:35:45.