Family:
Chigoe
Found in:
Aydeewa Subterrane

Found at Location:
E - 8
Spawned using:
Spoilt Blood
Job:
Monk
Level:
0
Flags:

Notorious Monster
Aggro
Detects by Sight
Detects by Sound
Based on Earth

Drops:
Updated: Thu Aug 20 11:44:00 2009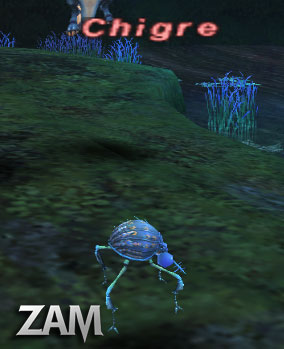 The ??? respawns three minutes after Chigre is defeated or despawns.
Has very low delay between attack rounds, and can attack multiple times per round.
Like other chigoes, Chigre has no TP moves of any sort.
If the target with hate has all these status effects on it, Chigre's physical attacks will have an additional en-Drain effect when attacking that target.
The term chigre is one of the more common names for the chigoe flea.
This page last modified 2009-08-20 07:38:27.