Family:
Imp
Found in:
Caedarva Mire

Found at Location:
J - 6
Spawned using:
Mint Drop
Job:
Black Mage
Secondary Job:
Red Mage
Level:
0
Flags:

Notorious Monster
Truesight
Based on Dark
Strong against Darkness

Drops:
Updated: Sat Feb 21 05:10:16 2009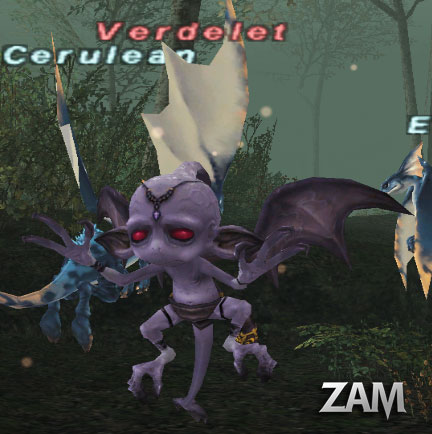 Respawn timer on the ??? is three minutes after Verdelet is defeated or despawns.
Has an innate Fast Cast effect.
Immune to Silence, Slow, and Gravity. Susceptible to Stun, but builds a resistance over time.
Black Magic - Capable of casting all tier I-III -ga spells, tier II-IV single target spells, all elemental DoT spells, tier I-II single target and -ga Sleep spells, and tier I-II Poisonga spells available to a level 75 Black Mage.
Abrasive Tantra - AoE Amnesia effect (Circle of effect originates from mob).
Deafening Tantra - AoE Silence effect (Circle of effect originates from mob).
Abrasive Tantra and Deafening Tantra cannot be used if Verdelet's horn is destroyed.
Frenetic Rip - Single target three-hit physical damage.
Verdelet will only perform this TP move if its horn is destroyed.
In medieval European demonology, Verdelet was a demon that served as a transport for witches to the witches' sabbath, as well as acted as master of ceremonies in the court of hell.
This page last modified 2010-02-21 07:31:40.