Family:
Skeleton
Found in:
Arrapago Reef

Found at Location:
G - 11
Spawned using:
Golden Teeth
Job:
Black Mage
Level:
0
Flags:

Notorious Monster
Aggro
Detects by Sound
Detects by Low HP
Based on Earth
Weak against Fire
Weak against Light
Strong against Darkness
Strong against Ice

Drops:
Stolen Items:
Updated: Sat Jun 14 08:18:16 2008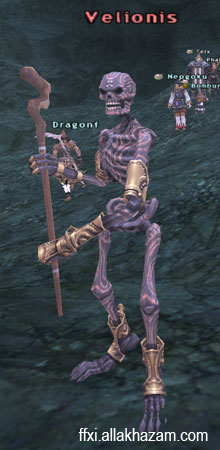 Respawn time on the ??? is three minutes after Velionis is defeated or despawns.
Immune to Silence and Sleep. Susceptible to Stun, Slow, Gravity, and Paralysis.
Spawns with an innate Blaze Spikes effect that cannot be dispelled.
Velionis's Blaze Spikes effect will only activate when it is not casting a spell.
Black Magic - Velionis is capable of casting all Tier II and Tier III -ga spells available to a level 75 Black Mage
Malediction - AoE HP Drain effect (Circle of effect originates from mob).
In Lithuanian, the word velionis means "the deceased".
This page last modified 2010-04-28 03:39:14.