Family:
Dragon
Found in:
Xarcabard

Level:
0
Flags:

Notorious Monster
Aggro
Detects by Sight
Based on Dark
Weak against Light

Updated: Wed Jul 8 12:40:45 2009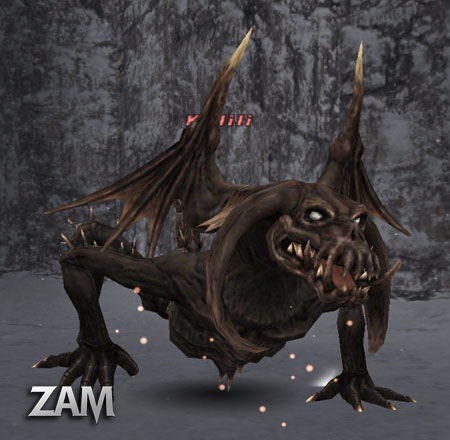 Requires Elite Training: Chapter 4 key item.
Spawned by trading items to the Field Parchment at H-9; must trade up to 18 beastmen's seals, up to 900 gil or a piece of equipment up to level 45.
Mob has between 2,000 and 2,500 HP.
This mob uses sets of special attacks that will change each time he is spawned. For example, one of his attack sets is wind breath, thornsong and chaos blade; another set is voidsong, petro eyes and lodesong.
Melee attacks have additional effects including enaspir, endrain, enpoison, enstone, enaero, enwater, enblizzard and enthunder.
Mob is healed by certain elemental magic spells.
Mob can intimidate players.
Mob has very high accuracy.
This page last modified 2010-01-09 17:06:24.