Family:
Ram
Found in:
Lufaise Meadows

Level:
0
Flags:

Notorious Monster
Not Aggro
Detects by Sight
Based on Earth
Strong against Ice

Drops:
Updated: Sat Mar 13 13:10:47 2010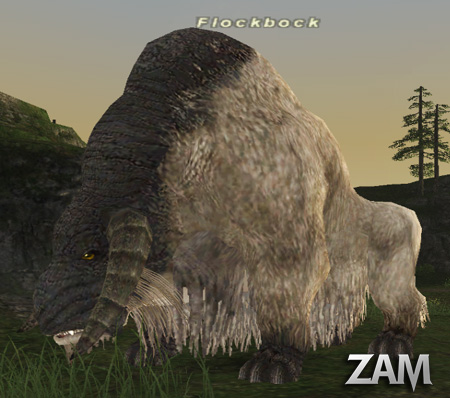 Timed spawn around the areas of (H-10), (J-7), (J-9), or (K-9) in Lufaise Meadows
If not defeated within an hour of being claimed, Flockbock will "rage", increasing its attack speed and potency.
Moves with slightly enhanced movement speed.
Immune to Bind, Gravity, and Sleep. Susceptible to Stun, Paralysis, and Slow.
Petribreath - Frontal cone AoE Petrification effect.
Flockbock's Petribreath resets hate for all targets hit by it.
This page last modified 2010-03-12 18:32:54.