Family:
Crab
Found in:
Buburimu Peninsula

Found at Location:
H - 9
Job:
Black Mage
Secondary Job:
Paladin
Level:
0
Flags:

Notorious Monster
Not Aggro
Not Linking
Based on Water
Weak against Ice
Weak against Lightning
Strong against Water

Drops:
Updated: Thu May 13 20:56:38 2010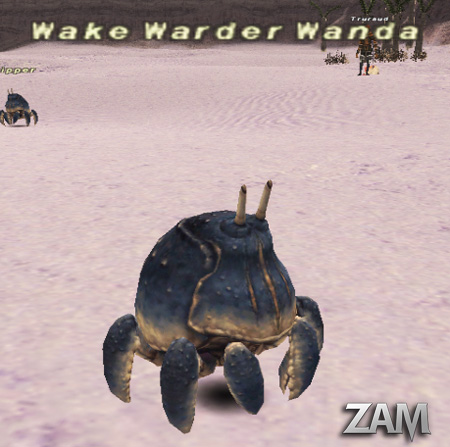 Respawn time is approximately 60 to 70 minutes after its last Time of Death.
Immune to Bind, Gravity, and Sleep. Susceptible to Stun, Slow, and Paralysis.
Wake Warder Wanda's Special Attacks
Drown - Single target Water based DoT with an additional Strength Down effect.
Bubble Shower - AoE Water based magic damage with an additional Strength Down effect (Circle of effect originates from mob).
Scissor Guard - Self target Defense boost (Effect can be dispelled).
This page last modified 2010-05-13 20:55:51.