Family:
Evil Weapon
Found in:
Xarcabard

Level:
0
Flags:

Notorious Monster
Aggro
Detects by Sound
Detects by Magic
Based on Wind
Weak against Fire
Weak against Light

Drops:
Updated: Mon Apr 26 10:44:15 2010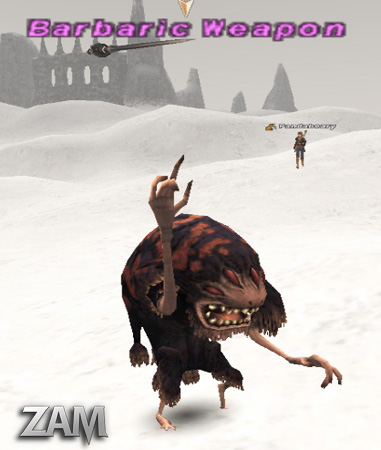 NM is a lottery spawn from the warrior-type Cursed Weapon along the spine.
Respawn time is roughly 2 hours since time of death.
Difficult to lock down hate with this NM.
Uses double-attack and hits for 200-300 damage.
Stores TP
Uses AoE attack "whirl of rage" at low HP, which gives NM dread spikes.
Immune to the spells bind and gravity.
Mob has 8,300 to 8,600 HP.
This page last modified 2010-03-14 22:22:37.