Family:
Cockatrice
Found in:
Sauromugue Champaign (S)

Found at Location:
J - 9
Job:
Black Mage
Level:
0
Flags:

Notorious Monster
Aggro
Detects by Sight
Based on Earth
Weak against Wind
Strong against Earth

Drops:
Updated: Tue Jun 8 18:27:12 2010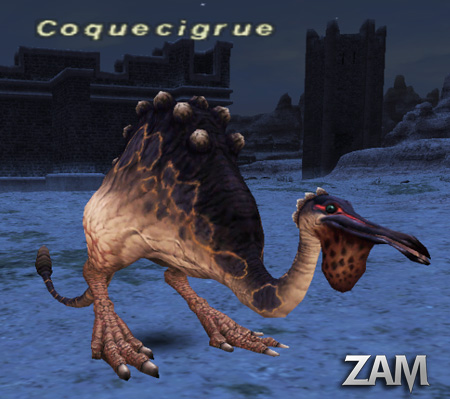 Respawn time is approximately two hours after its last Time of Death.
Melee attacks have an additional Petrification effect that cannot be dispelled.
Coquecigrue is capable of casting magic in rapid succession.
Immune to Bind, Gravity, and Sleep. Susceptible to Stun, Slow, and Paralysis.
Quake - Strong single target Earth based magic damage.
Slow - Single target Slow effect.
Stone IV - Single target Earth based magic damage.
Stonega III AoE Earth based magic damage (Circle of effect originates from spell target).
In French folklore, the coquecigrue was a creature considered the embodiment of absolute absurdity, often used by authors and writers as a term meaning "never" or "impossible. It was sometimes described as being the combination of a stork, a rooster, and a crane.
This page last modified 2010-06-06 06:16:29.