Family:
Cockatrice
Found in:
Cape Teriggan

Level:
0
Flags:

Notorious Monster
Aggro
Detects by Sight
Based on Earth
Weak against Wind
Strong against Earth

Drops:
Updated: Wed Feb 3 09:37:55 2010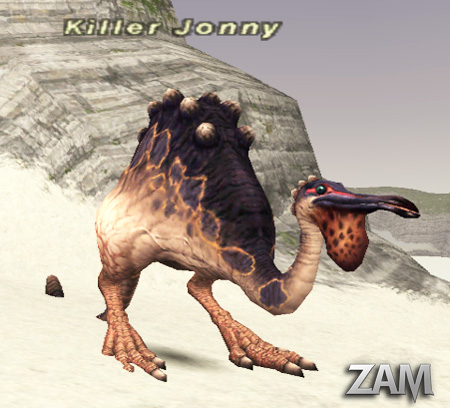 Respawn time is approximately 8 to 24 hours after its last Time of Death.
Possesses the Double Attack job trait.
Killer Jonny's Double Attack trait will proc every attack round.
Melee attacks have a potent En-Poison effect that cannot be dispelled.
Immune to Bind, Gravity, Sleep, and Poison. Susceptible to Stun, Slow, and Paralysis.
Sound Vacuum - Frontal cone AoE Silence effect.
This page last modified 2010-08-13 19:17:56.