Family:
Cluster
Found in:
Misareaux Coast

Job:
Warrior
Level:
0
Flags:

Notorious Monster
Aggro
Linking
Appears during Clouds / Fog
Detects by Sight
Based on Fire
Weak against Fire

Drops:
Updated: Mon Mar 15 05:25:24 2010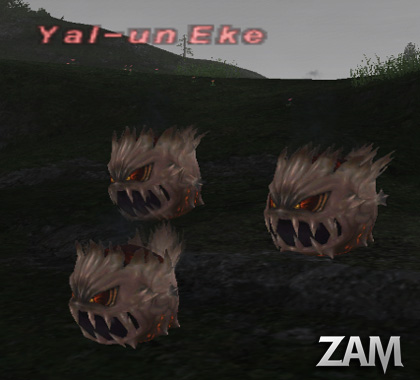 The Clusters (and as a result Yal-un Eke) will only spawn during "foggy" weather, which generally occurs from 01:00 and 07:00 game time.
Has a high Regain effect and Double Attack rate.
Immune to Bind, Gravity, and Sleep. Susceptible to Slow, Paralysis, and Stun.
Sling Bomb - Single target physical damage.
In ancient Mongolian and Turkish mythology, Yal-un Eke was a spirit mother of fire and served as a counterpart to the guardian spirit of fire, Odqan.
This page last modified 2010-05-25 05:00:25.