Family:
Tonberry
Found in:
Yhoator Jungle

Job:
Ninja
Level:
0
Flags:

Notorious Monster
Aggro
Linking
Detects by Sound
Based on Light
Weak against Ice
Strong against Light

Drops:
Updated: Fri Feb 26 23:12:35 2010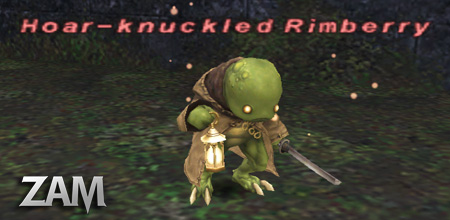 The placeholder will either be the Tonberry Creeper that spawns near the Temple of Uggalepih ruins at the southern edge of (H-10) or the Tonberry Shadower that spawns up on the ledge of the ruins.
Immune to Bind, Gravity, and Sleep. Susceptible to Stun, Slow, and Elegy.
Possesses a high Double Attack rate.
Jubaku: Ni: Single target Paralysis effect.
Hyoton: Ni: Single target Ice based magic damage that lowers resistance to Fire magic.
This page last modified 2010-02-26 20:43:48.