Family:
Yagudo
Found in:
Castle Oztroja

Job:
White Mage
Level:
0
Flags:

Notorious Monster
Aggro
Linking
Detects by Sight
Based on Wind
Weak against Ice

Drops:
Updated: Tue Feb 9 03:11:47 2010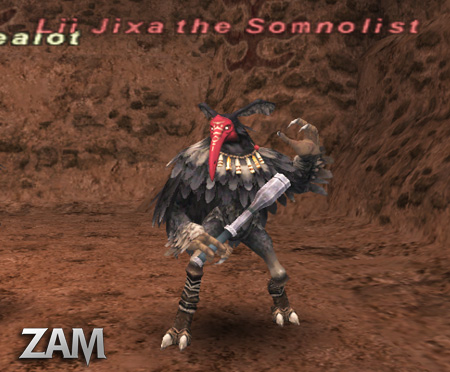 Timed spawn around the area of (I-8) on the second map of Castle Oztroja
Respawn time is approximately 60 to 90 minutes after its last Time of Death.
Immune to Bind, Gravity, Sleep, and Silence. Susceptible to Stun, Slow, and Paralysis.
Banish II - Single target Light based magic damage.
Cure III - Self target HP cure.
Repose - Single target Light based Sleep.
Lii Jixa the Somnolist will prioritize this spell over Banish II and Cure III, and will cast it fairly often.
The term "somnolist" (analogous to the term "somnologist") is a doctor who specializes in studying and treating sleep disorders.
This page last modified 2010-05-14 01:58:59.