Family:
Doll
Found in:
Upper Delkfutt's Tower

Job:
Warrior
Secondary Job:
Thief
Level:
0
Flags:

Notorious Monster
Aggro
Detects by Sound
Detects by Magic
Based on Ice
Weak against Lightning

Drops:
Updated: Mon May 3 00:00:40 2010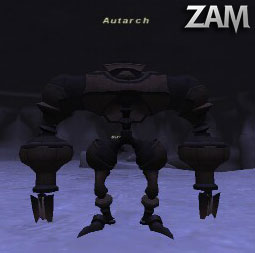 Respawn time is approximately two to three hours after its last Time of Death.
Has innate Double Attack, Triple Attack, and Shock Spikes effect that cannot be dispelled.
Has high accuracy, high evasion, and high attack power.
Immune to Bind, Gravity, and Sleep. Susceptible to Stun, Slow, and Paralysis.
Autarchism (from Greek, "belief in self rule") is a political philosophy that upholds the principle of individual liberty, rejects compulsory government, and supports the elimination of government in favor of ruling oneself and no other. Advocates of the philosophy are autarchist (from Greek, "one who believes in self rule"), while the state in which everyone rules themselves and no one else is autarchy (from Greek autarchia, "state of self rule").
This page last modified 2010-05-02 18:58:39.