Family:
Spider
Found in:
North Gustaberg (S)

Found at Location:
L - 7
Level:
0
Flags:

Notorious Monster
Based on Earth
Weak against Ice

Drops:
Involved in Quests:
Updated: Fri Oct 26 03:35:43 2012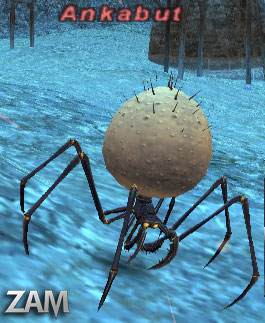 Ankabut's Spawn Location
Respawn time is approximately 90 minutes after its last Time of Death.
Possesses both the Double Attack and Triple Attack traits.
Immune to Bind, Gravity, and Sleep. Susceptible to Stun, Slow, and Paralysis.
Acid Spray - Frontal cone AoE Water based magic damage
The word ankabut is Arabic for "spider"
This page last modified 2010-04-14 12:33:36.