Family:
Gigas
Found in:
Beaucedine Glacier

Job:
Warrior
Level:
0
Flags:

Notorious Monster
Aggro
Linking
Detects by Sight
Based on Ice
Strong against Ice
Strong against Lightning

Drops:
Updated: Mon Feb 22 08:45:31 2010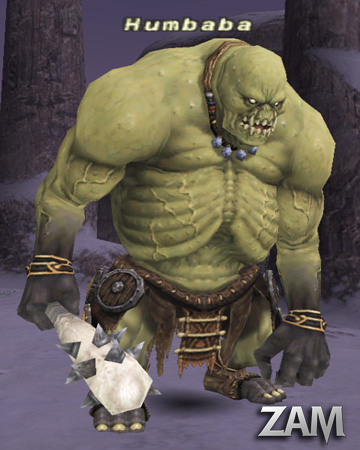 Timed spawn around the areas of (G-9), (G-10), (H-8), (I-7), (I-9), and (J-9) of Beaucedine Glacier
Has an innate Ice Spikes effect that cannot be dispelled.
Has a high double attack rate.
Immune to Bind, Gravity, and Sleep.
Ice Roar - Frontal cone AoE Ice based magic damage.
In Akkadian mythology, Humbaba was a monstrous giant of considerable age raised by the sun god Utu. Assigned to be the guardian of the Cedar Forest where the gods resided, he was eventually slain by Gilgamesh and Enkidu to immortalize their existence despite their mortality.
This page last modified 2010-02-09 20:18:13.