Family:
Skeleton
Found in:
King Ranperre's Tomb

Job:
Black Mage
Level:
0
Flags:

Notorious Monster
Aggro
Detects by Sound
Detects by Low HP
Based on Earth
Weak against Fire
Weak against Light
Strong against Darkness
Strong against Ice

Drops:
Updated: Mon Jun 7 12:51:15 2010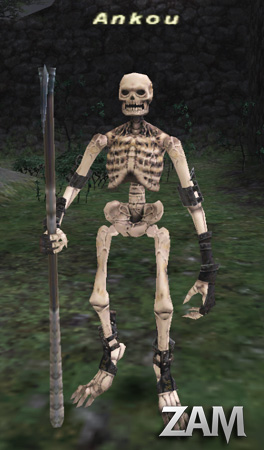 Spawns between 20:00 and 04:00 each night, with approximately one hour intervals after each kill. Will despawn if unclaimed once it reaches 04:00.
Immune to Gravity, Sleep, and Bind. Susceptible to Slow, Paralysis, and Stun.
Aspir - Single target MP drain effect.
Bio - Single target Darkness based DoT with an additional Attack Down effect.
Drain - Single target HP drain effect.
Ankou is a personification of death in Breton mythology. There are many tales involving Ankou, who appears as a man or skeleton wearing a cloak and wielding a scythe, often atop a cart for collecting the dead. According to some he was the first child of Adam and Eve. Other versions have it that the Ankou is the first dead person of the year (though he is always depicted as adult, and male), charged with collecting the others before he can go to the afterlife.
This page last modified 2010-04-16 20:49:29.