Family:
Gigas
Found in:
Abyssea-La Theine

Spawned using:
Trophy Shield
Job:
Warrior
Level:
0
Flags:

Notorious Monster
Aggro
Detects by Sight
Based on Ice
Strong against Ice
Strong against Lightning

Drops:
Updated: Mon Mar 7 01:35:21 2011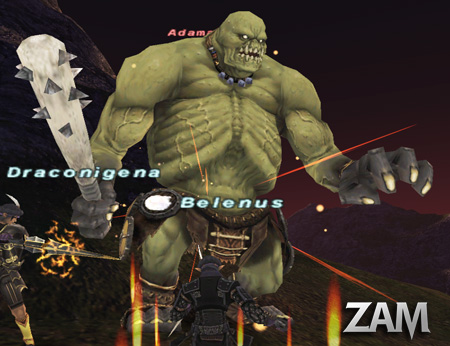 Respawn time on the ??? is five minutes after Adamastor is defeated or despawns.
Possesses the Double Attack job trait.
Adamastor's Double Attack trait is exceptionally potent.
Possesses an innate En-spell effect that cannot be dispelled.
This En-spell effect will occur after Adamastor has used its two-hour ability.
Immune to Bind, Gravity, and Sleep. Susceptible to Stun, Slow, and Paralysis.
Grand Slam: AoE physical damage.
Once Adamastor's HP drops to about 30%, it will begin to use Grand Slam three times in a row in quick succession.
Lightning Roar: Frontal cone AoE Thunder based magic damage.
Power Attack: Single target physical damage.
Impact Roar: Frontal cone AoE physical damage.
Mighty Strikes: Physical attacks performed by Adamastor will deal critical damage for the duration of the effect.
Denoted by the characteristic mob two-hour animation.
Adamastor is a Greek-type mythological character invented by the Portuguese poet Luís de Camões in his epic poem Os Lusíadas (first printed in 1572), as a symbol of the forces of nature Portuguese navigators had to overcome during their discoveries. It is described in the Os Lusíadas as being a being a creature of enormous size, with heavy jowls, an unkempt beard, hollow eyes, a pale complexion, hair matted with clay, a coal-black mouth, and teeth yellow with decay.
This page last modified 2010-07-19 09:04:47.