Family:
Ram
Found in:
Abyssea-La Theine

Spawned using:
Raw Mutton Chop
Job:
Warrior
Level:
0
Flags:

Notorious Monster
Aggro
Detects by Sight
Based on Earth
Strong against Ice

Drops:
Updated: Mon Mar 7 01:52:37 2011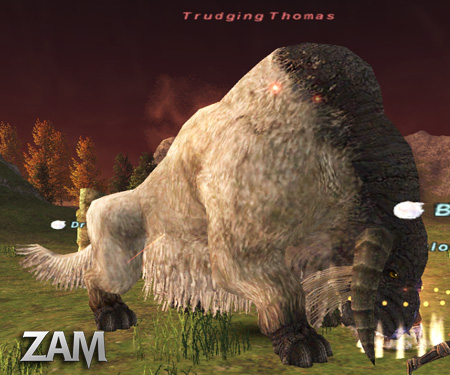 Respawn time on the ??? is five minutes after Trudging Thomas is defeated or despawns.
Immune to Bind, Gravity, Sleep, Slow, Elegy, and Stun. Susceptible to Paralysis.
Rage - Self target Berserk effect (Effect can be dispelled).
Ram Charge - Single target physical damage with an additional Knockback effect.
Trudging Thomas will only use Ram Charge if Rage is currently active, and will proceed to spam Ram Charge until it is dispelled or wears off naturally.
Unlike the Ram Charge ability from normal rams, Trudging Thomas's Ram Charge ignores shadows (from Blink and Utsusemi) as well as Third Eye.
Booming Bleat - AoE Max HP Down effect (Circle of effect originates from mob).
Booming Bleat will have no effect if targets in range have the Max HP boost effect from the Cruor Prospector.
This page last modified 2010-09-07 06:49:28.