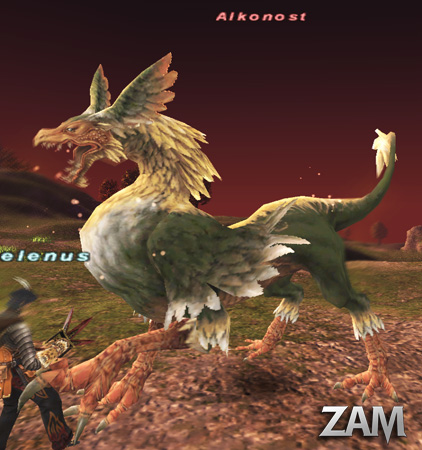 Respawn time on the ??? is five minutes after Alkonost is defeated or despawns.
Has an innate En-aero effect that cannot be dispelled.
Possesses the Triple Attack job trait.
The frequency that Triple Attack procs increases as Alkonost's HP decreases.
Is capable of using TP moves anywhere from one to four times in a row in rapid succession when it has enough TP.
Immune to Bind, Gravity, and Sleep. Susceptible to Stun, Slow, and Paralysis.
Choke Breath: Frontal cone AoE Wind based damage with additional Silence and Paralysis effects.
Jettatura: Frontal cone AoE Terror effect.
Fantod: Self target Attack boost for next melee attack.
Nihility Song: AoE Dispel effect. Can remove Food effects.
Back Hoof: Single target physical damage.
Back Hoof will reset enmity to any target hit by it, even if the attack is absorbed by an Utsusemi or Blink shadow.
Hoof Volley: Single target critical hit physical damage with an additional Enmity reset effect.
The Alkonost is a legendary bird in Slavic mythology. It has the body of a bird with the head and chest of a woman. The name Alkonost came from the name of Greek demi-goddess Alcyone transformed by gods into a kingfisher. The Alkonost reproduces by laying eggs on the sea-shore then putting them into the water. The sea is then calm for six or seven days at which point the eggs hatch, bringing a storm. For the Russian Orthodox Church Alkonost personifies God's will. She lives in paradise but goes into our world to deliver a message. Her voice is so sweet that anybody hearing it can forget everything.
This page last modified 2011-06-05 19:37:12.