Family:
Sandworm
Found in:
Abyssea-Tahrongi

Level:
0
Flags:

Notorious Monster
Aggro
Detects by True Sound
Based on Earth
Weak against Wind

Drops:
Involved in Quests:
Updated: Sat Mar 26 07:33:19 2011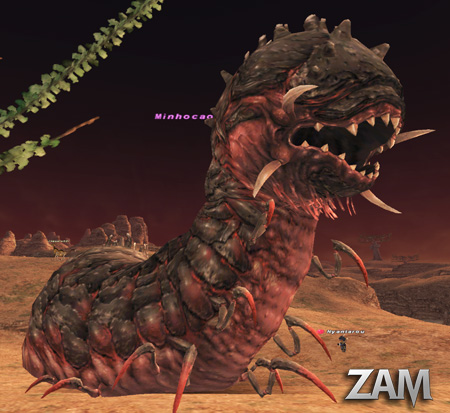 Respawn time is 30-60 minutes after its last Time of Death.
When unclaimed, Minhocao will roam along the entire length of its spawn area.
Has a very rapid enmity decay.
Immune to Bind, Gravity, and Sleep. Susceptible to Stun and Paralysis. Highly resistant to Slow.
Slaverous Gale: Frontal cone AoE magic damage with additional Plague and Slow effects.
Dustvoid: Single target Knockback and gear removal effects.
Aeolian Void: Conal AoE magic damage with additional Silence and Blind effects.
Extreme Purgation: AoE full Buff and Debuff absorption (Circle of effect originates from mob).
Desiccation: Frontal cone AoE Job Ability absorption.
Gorge: AoE HP Drain effect (Circle of effect originates from mob).
Will absorb a set amount of HP based on its current HP level. The amount drained from each target is proportional to the number of targets within range.
For example, a Gorge effect for 1,400 total HP will absorb 200 HP from each target if there are seven targets in range.
The Drain effect increases as Minhocao's HP level decreases.
Disgorge: Frontal cone magic damage.
Damage dealt is based on the amount of HP drained by Gorge.
Minhocao's will always use Disgorge after using Gorge.
Damage can be avoided by staying away from Minhocao's front.
The minhocão ("big earthworm" in Brazilian Portuguese) is a large earthworm-like cryptid that allegedly exists in the forests of South America. It reportedly resembles a giant worm, with scaly black skin and a pair of tentacle-like structures protruding from its head. It is thought to be a burrowing animal, producing enormous trenches as it digs.
This page last modified 2011-09-06 11:06:28.