Family:
Xzomit
Found in:
Abyssea-Konschtat

Found at Location:
E - 7
Job:
Warrior
Level:
0
Flags:

Notorious Monster
Not Aggro
Detects by True Sound

Drops:
Updated: Fri Oct 22 16:20:35 2010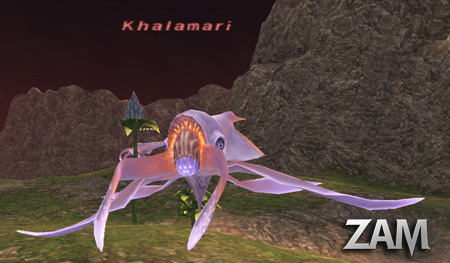 Immune to Bind, Gravity, and Sleep. Susceptible to Stun, Slow, Paralysis, and Blind.
Dual Strike - Single target two-hit physical damage.
Ink Spray - AoE Blind effect (Circle of effect originates from mob).
Saline Coat - Self target Magic Defense boost (Effect can be dispelled).
Molluscous Mutation - Self target Defense boost (Effect can be dispelled).
Siphon Charge - Frontal cone AoE Water based magic damage with an additional Knockback effect.
Mantle Pierce - Conal AoE physical damage.
Khalamari's Mantle Pierce is exceptionally potent, capable of doing 1600+ damage to unprotected players.
The "charge" time for Mantle Pierce decreases as its HP decreases.
This page last modified 2010-07-15 14:04:41.