Camate wrote:
Greetings!
We dropped a hint previously that we were working on a Mog House decoration contest. While the official announcement is not quite yet, I figured I would let you all know ahead of time what we have planned, so you can start getting your houses in order.
The theme for this contest will be "cool" (think Sun
BREEZE
Festival).
We'll be asking you all to decorate your Mog Houses following the theme, taking screenshots, and posting them up on the forum in the contest thread. We'll be requiring that one or more of the below furnishings be used, as they represent wind and water (summer time cool!).
Quote:

Goldfish Bowl/Fighting Fish Tank/Butterfly Cage/Cricket Cage/Glowfly Cage/Freshwater Aquarium/Saltwater Aquarium/River Aquarium/Reef Aquarium/Bay Aquarium/Carillon Vermeil/Aeolsglocke/Leafbell/R. Bamboo Grass/B. Bamboo Grass/G. Bamboo Grass
Contest breakdown
- Entries will be submitted as a post on the forum
- Entries are limited to one per person
- Up to 5 screenshots can be submitted
We will be awarding winners with the below new furnishings: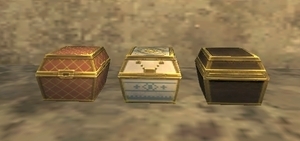 Our idea is to continue holding Mog House decoration contests in the future, but changing the theme each time. We'll be announcing the official details and schedule soon, so please look forward to it!
http://forum.square-enix.com/ffxi/threads/26100-Show-off-your-Mog-Houses?p=357810#post357810