PlayOnline wrote:
The following campaigns will be held starting on Saturday, February 11 at 12:00 a.m. (PST)
Campaign Period: Saturday, February 11 at 12:00 a.m. (PST) to Tuesday, February 28 at the same hour.
Increased Seal and Crest Drop Rate Campaign
The rate at which seals and crests are dropped is increased based on the number of members in the party up to a maximum of six seals.
Additional Seal Battlefield Spoils Campaign
During this campaign, vanquishing specific monsters in the battlefields below will reward you with a variety of items, including materials needed to craft +2 empyrean equipment, Mog Bonanza kupons, Dynamis currency, and valuable synthesis materials.
 
Orb 
(Price)	Available Battlefield	Name	Entry Restrictions	Monsters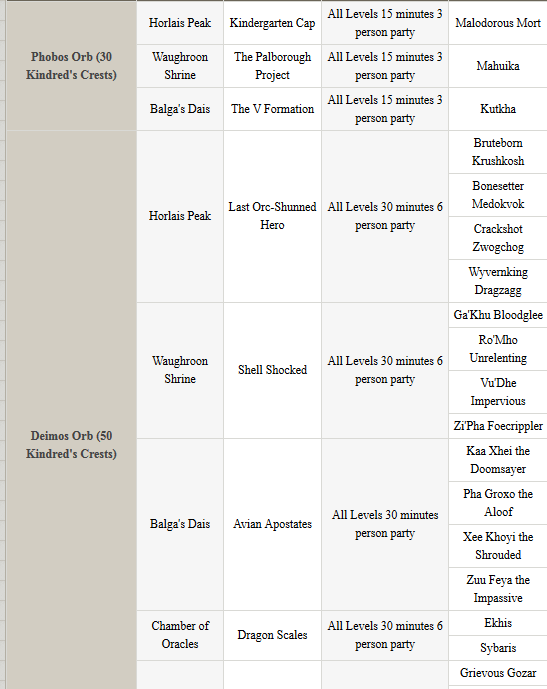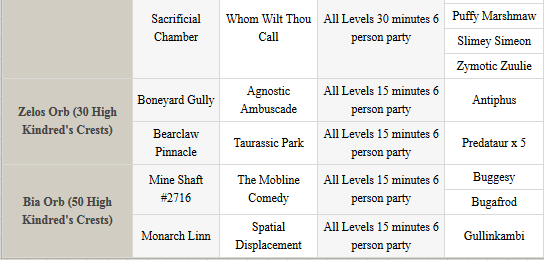 Also during this campaign, Shemo in Port Jeuno (H-8) will exchange seals and crests at a reduced rate of 2:1.
During the campaign, the default light values of pearlescent, azure," golden, and silver auras will be drastically increased.
In addition, a blue treasure chest has been placed near Horst in Port Jeuno (H-8). Opening the chest will enable you to claim one of the following prizes:
- Eleven varieties of Atma
- One Lunar Abyssite key item
- 100,000 cruor
Mog Gardens will undergo the following modifications throughout the duration.
- The number of shining stars received when entering a Mog Garden will be doubled.
- The coastal fishing net will provide different special items.
- Items may be harvest from Monster Rearing twice per day.
- The following items will be sold in the gardens specially throughout the duration.
Golden Seed Pouch / Chestnut Tree Sap / Monarch Beetle Saliva
Mahogany Bed / Noble?s Bed / Goblin Stew 880
All Walk of Echoes content will become surge and endowed walks throughout the duration. Use this opportunity to get valuable items, experience, and capacity points!
* Walks that are normal when the campaign begins will be converted to surge walks upon entry.
Etchings items. Additionally, exchanging the following key items at the Odyssean Passage in Leafallia (H-8) will yield two additional rewards*.
Fabricated Ward of Biting Winds / Fabricated Ward of Miasma / Fabricated Ward of Impurity / Fabricated Ward of Ashen Wings / Fabricated Ward of the False King
* These are the same rewards as those available via the dialogue option ?Whatever the master deems worthy.
Reared creatures will be twice as likely to transform during the campaign.
http://www.playonline.com/pcd/topics/ff11us/detail/15306/detail.html