Family:
Bats
Found in:
Valkurm Dunes

Level:
26 - 27
Flags:

Notorious Monster
Aggro
Not Linking
Detects by Sound
Based on Wind
Weak against Light
Weak against Wind
Strong against Darkness

Drops:
Involved in Quests:
Updated: Tue Feb 4 20:27:35 2014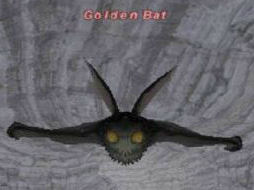 NM is a lottery spawn from the Giant Bat mobs at C-6, C-7 and B-8.
All giant bats in these areas are potential placeholders.
NMs will link other bats in area.
Appears on floors 61-80.
Drops a ??? Cape which may be appraised into a Night Cape.
This page last modified 2010-04-04 22:58:09.