Family:
Rabbit
Found in:
West Ronfaure

Level:
9 - 10
Flags:

Notorious Monster
Not Aggro
Not Linking
Detects by Sight
Pursues by Scent
Based on Earth
Weak against Darkness
Weak against Lightning
Weak against Water

Drops:
Stolen Items:
Updated: Fri Dec 28 16:26:12 2007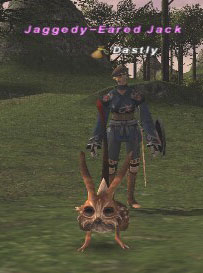 NM is a lottery spawn from a Forest Hare at G-9, G-10, H-9 or H-10.

When using widescan, the NM's placeholder is the hare that appears on the second group of three hares above the listed Carrion Worm.

NM has roughly 250 HP.
Drops a crate containing a ??? item which may appraise into Rabbit Charm.
Appears on Floors: 1 - 20
This page last modified 2010-05-03 23:40:21.