Family:
Yagudo
Found in:
Castle Oztroja

Job:
Monk
Level:
35 - 36
Flags:

Notorious Monster
Aggro
Linking
Detects by Sight
Based on Wind
Weak against Ice

Drops:
Updated: Sun Jun 6 00:39:17 2010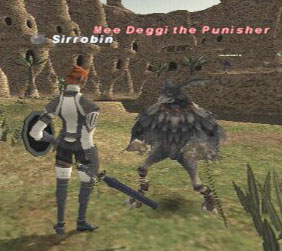 Respawn time is approximately one to six hours after its last Time of Death.
Susceptible to Bind, Gravity, Sleep, Stun, Slow, and Paralysis.
Mee Deggi the Punisher will always drop either the Impact Knuckles or the Ochimusha Kote, with a far higher probability of dropping the Impact Knuckles.
Double Kick - Single target two-hit physical damage with an additional Stun effect.
Feather Storm - Single target physical damage with an additional Poison effect.
Parry - Self target Defense boost effect (Effect can be dispelled).
Sweep - AoE physical damage with an additional Stun effect (Circle of effect originates from mob).
Hundred Fists - Self target potent Attack speed boost effect.
This page last modified 2010-06-05 20:32:58.