Family:
Gigas
Found in:
Upper Delkfutt's Tower

Job:
Monk
Level:
36
Flags:

Notorious Monster
Aggro
Linking
Detects by Sight
Based on Ice
Strong against Ice
Strong against Lightning

Drops:
Updated: Thu May 27 10:26:27 2010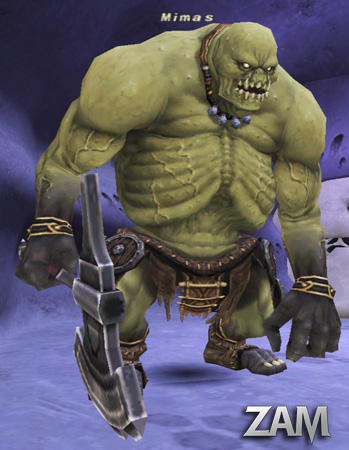 Respawn time is approximately 15 minutes after its last Time of Death.
Susceptible to Bind, Gravity, Slow, Stun, and Paralysis.
Grand Slam - AoE physical damage (Circle of effect originates from mob).
Lightning Roar - Frontal cone AoE Thunder based magic damage.
Power Attack - Single target physical damage.
Impact Roar - Frontal cone AoE physical damage.
Hundred Fists - Self target potent Attack speed boost effect.
Denoted by the characteristic mob two-hour animation.
In Greek mythology, Mimas was one of the Gigantes, a race of giants that were the sons of the goddess Gaia, fertilized by the blood of the castrated god Uranus. Mimas had serpents for legs and was born fully armoured. During the Gigantomachy, Mimas was defeated in battle by the god Hephaestus.
This page last modified 2010-05-21 18:17:14.