Family:
Bee
Found in:
Temple of Uggalepih

Found at Location:
F - 10
Spawned using:
Bee Larvae
Level:
62
Flags:

Notorious Monster
Aggro
Not Linking
Based on Wind
Weak against Ice

Drops:
Stolen Items:
Updated: Fri Dec 28 16:26:12 2007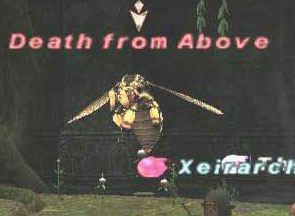 The ??? will respawn fifteen minutes after Death from Above is defeated or despawns.

Death from Above's ??? Location
Immune to Sleep, Lullaby, and Repose.
Melee attacks have an additional Poison effect that cannot be dispelled.
Has an extremely high attack speed.
Pollen - Self target HP recovery effect.
Sharp Sting - Single target physical damage.
Final Sting - Single target physical damage proportional to the amount of HP Death from Above currently has.
Death from Above will be defeated once Final Sting is performed.
This page last modified 2009-05-22 09:51:28.