Family:
Sahagin
Found in:
Sea Serpent Grotto

Job:
White Mage
Level:
0
Flags:

Notorious Monster
Based on Water
Weak against Lightning
Strong against Water

Drops:
Updated: Fri Feb 6 09:33:15 2009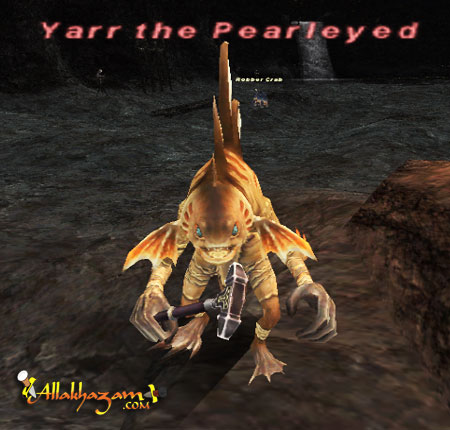 Yarr the Pearleyed's Spawn Location
This area can be accessed by trading a Gold Beastcoin to the door at (I-14) on the first map of the zone, or by dropping down from the ledge at (L-8) from the fifth map of the zone.
Has an auto-regen effect that cannot be dispelled.
Immune to Silence and resistant to Sleep and Lullaby.
White Magic: Capable of casting all white magic spells available to a level 75 White Mage apart from the Tier II merit spells.
Hydro Shot: Single target physical damage with additional Enmity down and Knockback effects.
Hydro Ball: Single target Water based magic damage with an additional Strength down effect.
Spinning Fin: AoE physical damage with an additional Stun effect (Circle of effect originates from user).
Bubble Armor: Self target Shell effect (effect can be dispelled).
Benediction: AoE massive HP recovery and status ailment removal effect. Denoted by the characteristic mob two-hour animation effect (Circle of effect originates from user).
This page last modified 2009-02-11 05:44:39.