Family:
Dynamis - Quadav
Found in:
Dynamis - Bastok

Level:
0
Flags:

Notorious Monster
Aggro
Linking
Detects by Sound
Based on Water
Weak against Lightning

Drops:
Stolen Items:
Updated: Tue Dec 16 09:11:05 2008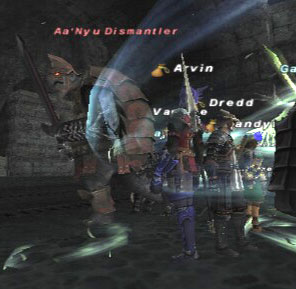 Uses Blood Weapon.
Also uses the Wrath of Gu'Dha attack, a quadav knockback attack that can have a gravity AoE effect. This move is only used by notorious monster quadavs in Dynamis or Wings of the Goddess areas.
Spawns near the depot.
This page last modified 2009-03-09 21:50:25.