Family:
Evil Weapon
Found in:
Qufim Island

Job:
Warrior
Level:
35 - 36
Flags:

Notorious Monster
Aggro
Not Linking
Detects by Sound
Detects by Magic
Based on Wind
Weak against Fire
Weak against Light

Drops:
Involved in Quests:
Updated: Tue Dec 22 15:15:41 2009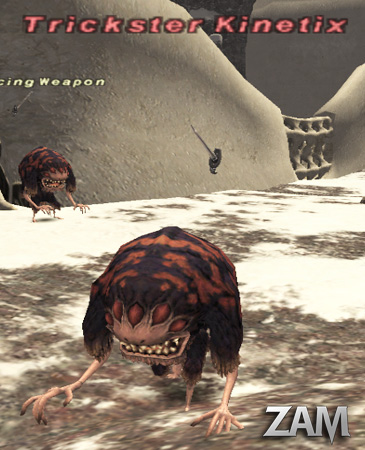 On Qufim Island
The NM is a lottery spawn off of dancing weapons around the spine.
Respawn time is unpredictable, ranging from 40 minutes to several hours.
The Qufim Island version of this NM must be defeated in the quest The Miraculous Dale.
NM has roughly 1,920 hit points.
Regular NMs inside Nyzul Isle need to be defeated in order to complete the objective 'Defeat all enemies' but will never be a 'Specified Enemy/Enemies'.
Drops a crate containing a ??? item which may appraise into Tabar.
Appears on floors 41 - 60
This page last modified 2010-03-14 21:45:08.