Family:
Wyrm
Found in:
Uleguerand Range

Job:
Dark Knight
Secondary Job:
Black Mage
Level:
95
Grants Title:
World Serpent Slayer
Flags:

Notorious Monster
Aggro
Detects by Sound
Based on Fire
Strong against Fire

Drops:
Involved in Quests:
Updated: Sat Nov 8 05:11:48 2008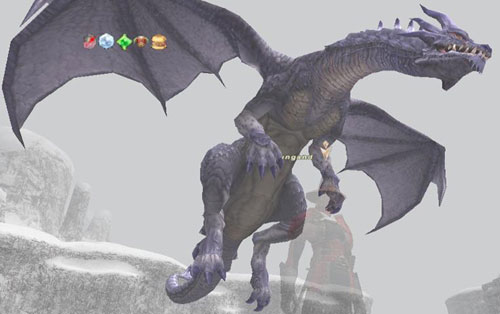 Jormungand's Spawn Location
Spawn time is 72-120 hours after the last ToD, or 36-72 hours after a server maintenance when the servers are offline. Thirty minute intervals between each window.
Susceptible to Sleep, Stun, Slow, and Elegy. Immune to Lullaby and Silence. Resistant to Paralysis.
Every minute, Jormungand will fly into the air, where he'll stay for approximately 30 seconds before coming to the ground again. During this time, melee attacks will have no effect on him (magic and ranged attacks can still affect him though). While he's in the air, his normal attacks are magical, ice based attacks that cannot be absorbed by shadows, but can be reduced by damage reduction, magic defense, magic reduction, and ice resist effects (through gear, spells, job abilities, etc). While he is in the air, he cannot be slept (Sleep will land on him, but it will wear off immediately)
When his hp reaches below 30%, Jormungand will begin to increase the rate of his tp moves considerably. Extreme caution is recommended during the last 30% of his hp.
Has an auto-regen effect that cannot be dispelled.
Grants title: World Serpent Slayer
Jormungand Special Abilities
Blizzaga III: AoE Ice based magical spell (AoE circle originates from the spell target).
Ice Spikes: Inflicts Ice based magical damage against all that melee Jormungand. Ice damage can inflict paralysis. Effect can be dispelled.
Paralyga: AoE Paralyze spell (AoE circle originates from the spell target)
Bindga: AoE Bind spell (AoE circle originates from the spell target)
Horrid Roar: Single target full Dispel and Enmity reset effects.
Absolute Terror: Single target Terror effect. Target is unable to perform any action until effect wears off.
Gregale Wing: AoE magical damage with an additional Paralysis effect.
Glacial Breath: Cone AoE Ice based damage. Damage is the strongest on anyone directly in front of Jormungand. Recommended for all tanks to stand on Jormungand's front legs to reduce damage taken.
Jormungand will only perform Glacial Breath while on the ground.
Touchdown: AoE damage. Wipes shadows. Tp move is performed when Jormungand lands on the ground after being in the air.
Sleet Blast: Strong AoE Ice based magic damage.
Jormungand will only perform Sleet Blast while in the air.
Spike Flail: Massive AoE physical damage. Absorbed by three shadows. Will only occur when a character has drawn hate from behind it.
Jormungand cannot perform Spike Flail while in flight.
Blood Weapon: Restores hp to Jormungand equal to the amount of damage he inflicts with each melee attack. At approximately 85% hp, Jormungand will begin to use this ability, and will often use it once after each time in the air. Denoted by the characteristic mob two-hour animation.
Jormungand will not perform Blood Weapon while in the air.
Note: All AoE moves will hit anyone within range, regardless if they or their alliance has hate on Jormungand or not.
Jormungand possesses the same abilities as his full strength counterpart in Uleguerand Range, though has a decidedly lower amount of HP.
In Norse mythology, Jormungand (originally spelled Jormungandr) was the middle offspring of the prankster god Loki and the giantess Angrboda. His siblings were the wolf monster Fenrisulfr (see Fenrir Prime) and Hel, the future ruler of the underworld that would bear the same name.
Soon after birth, Odin hurled Jormungandr into the ocean that surrounded Midgard (the human world), where it grew so large that its body encircled the whole of the Earth, eventually biting hold of its own tail. Because of this, Jormungandr also became known as Midgardsormr, the Midgard Serpent (also known as the World Serpent, hence the reason that defeating Jormungand grants the title of World Serpent Slayer)
During the Ragnarok (see Ragnarok), the thunder god Thor met Jormungandr in battle and slew him, only to succumb to the monster's poison and die after only taking nine steps.
This page last modified 2009-02-13 16:20:05.