Family:
Biotechnological Weapon
Found in:
Sealion's Den

Level:
0
Grants Title:
Omega Ostracizer
Flags:

Quest Notorious Monster
Aggro
Detects by True Sound

Involved in Quests:
Updated: Tue Jul 27 22:11:45 2010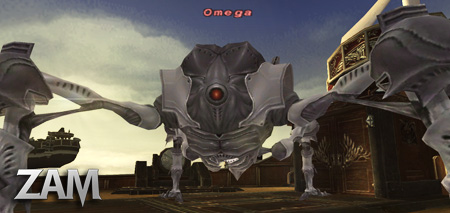 Appears on the fourth airship in the One to be Feared Chains of Promathia mission.
At set HP intervals, Omega's attack speed will increase.
Has a very low auto-regen effect that cannot be dispelled.
Melee attacks performed by Omega have an additional Stun effect.
Using the item CCB Polymer Pump on Omega will prevent it from using any TP moves for exactly one minute.
Guided Missile: AoE physical damage with an additional Bind effect. (Circle of effect originates from move target).
Target Analysis: AoE Stat absorption effect.
Ion Efflux: Frontal cone Paralysis effect.
Rear Lasers: Rear cone AoE magic damage with additional Petrification effect. (Occurs when hate has been drawn on Omega from behind).
Hyper Pulse: AoE magic damage with additional Bind and Gravity effects.
Discharger: Self target Magic Shield with an additional Shock Spikes effect. Effect cannot be dispelled.
Magical damage from avatar bloodpacts (excluding the tier II and IV spells), elemental weaponskills, and skillchains) will still damage Omega.
Pile Pitch: Single target HP reduction to critical level and enmity reset.
This page last modified 2009-03-13 23:22:38.