Family:
Beetle
Found in:
Kuftal Tunnel

Job:
Paladin
Level:
0
Flags:

Quest Notorious Monster
Aggro
Detects by Sight
Based on Earth
Weak against Ice
Weak against Light

Involved in Quests:
Updated: Mon Feb 1 14:34:47 2010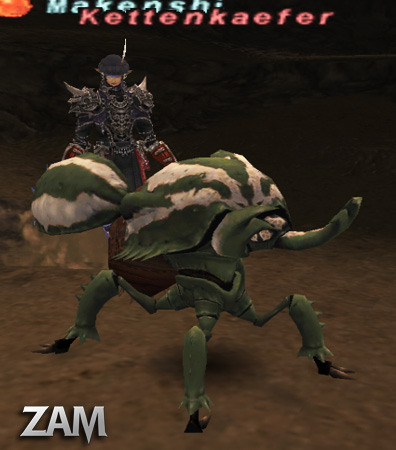 Clicking on the ??? after Kettenkaefer is defeated will reward the players doing this quest the Annals of Truth key item.
Susceptible to Stun, Slow, Paralysis, Bind, and Gravity.
Rhino Guard - Self target Evasion Boost (Effect can be dispelled).
Hi-Freq Field - Frontal cone AoE Evasion down effect.
Spoil - Single target Strength down effect.
Power Attack - Single target critical hit physical damage.
Rhino Attack - Single target physical damage with an additional Knockback effect.
This page last modified 2010-08-14 01:41:28.