Family:
Ghrah
Found in:
Grand Palace of Hu'Xzoi

Job:
Black Mage
Secondary Job:
Red Mage
Level:
75 - 76
Flags:
Drops:
Updated: Wed Jul 15 12:15:36 2009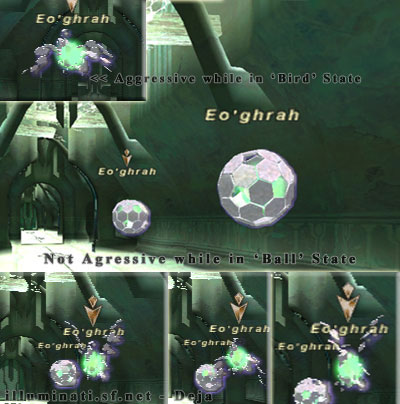 Appear exclusively in narrow hallways while traversing a relatively short distance. Roughly every sixty to seventy-five seconds, they will alternate betwen a sphere form and a bird form, or a sphere form and a spider form. While in sphere form they are non-aggressive, but while in bird or spider form they are true sound.
The color of the "core" denotes what element the Eo'ghrah is, and they are immune to spells of the same element as they are, and are strongly resistant to spells of whatever element they are strong against.
Magic Spells: Will cast spells based on what element their based on, including (but not limited to) En-spells, Tier IV single target spells, Tier III -aga spells, Ancient Magic, DoT spells, self target Buff spells, etc.
Hexidiscs: Frontal cone six-hit physical damage.
Can only be used while in sphere form.
Damnation Drive: Single target two-hit physical damage with additional Knockback and Stun effects.
Can only be used while in bird form.
Sickle Slash: Single target critical hit physical damage. (Attack ignores shadows).
Core Meltdown: AoE magic damage based on mob's current hp. Mob's hp will drop to zero after this attack is performed.
Actinic Burst: AoE Flash effect.
This page last modified 2008-04-22 23:30:50.