Family:
Bird
Found in:
La Theine Plateau

Level:
0
Flags:

Notorious Monster
Based on Fire
Weak against Ice
Strong against Wind

Drops:
Stolen Items:
Updated: Mon May 17 12:16:52 2010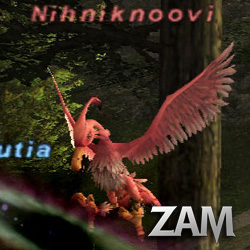 Spawned by clicking on the Fallen Egg that appears at (I-6), (J-6), (L-7), (L-10), and (L-11) in La Theine Plateau.
Clicking on the Fallen Egg may, in place of spawning Nihniknoovi, produce a Bird Egg, or result in the message "There is a broken egg on the ground here. Perhaps there is a nest in the boughs of this tree.
Regardless of what result occurs, the Fallen Egg will disappear and respawn 5 minutes later in another location.
Wing Cutter: Frontal cone AoE Wind based magic damage.
Helldive: Single target physical damage.
In most western Native American mythology, the Nihniknoovi is said to be a large, ferocious hawk that would attack humans and carry them off to its nest in the mountains, where it would then devour them.
This page last modified 2010-06-14 10:01:18.